Miami is renowned for its love of seafood, and oysters are no exception. However, with prices often reaching up to $3 per oyster, it can be a costly affair. Fear not, as we've rounded up the best affordable oyster options in the city whether Miami Beach, South Beach, Wynwood or Brickell Key, you'll find upscale restaurants to dive bars, and even waterfront spots. There's something for every palate and budget.
Our extensive Miami Happy Hour list has 10 restaurants that offer oysters on their happy hour menu. We'll list their deals for you now!
A Fish Called Avalon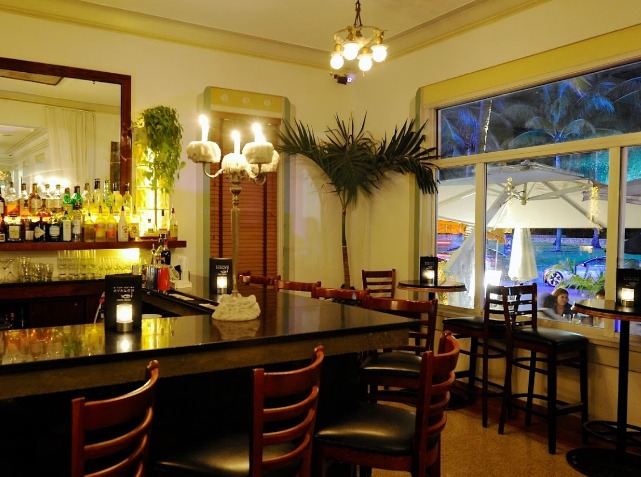 A Fish Called Avalon has been setting the bar for culinary excellence for over 30 years. With its award-winning cuisine, impeccable service, and daily delivery of the freshest seafood, it's no wonder the restaurant has earned a spot in the Top 10 Best Seafood Restaurants in South Florida. Situated in the iconic Art Deco District of Miami Beach, the restaurant is led by Executive Chef Kal Abdalla and offers innovative menu creations. Enjoy dining on the outdoor patio, surrounded by warm ocean breezes and live music, for a true South Beach experience.
They offer Copps Island Oysters for $2 each from 5:30 – 7 PM Monday to Sunday at the bar only.
Earls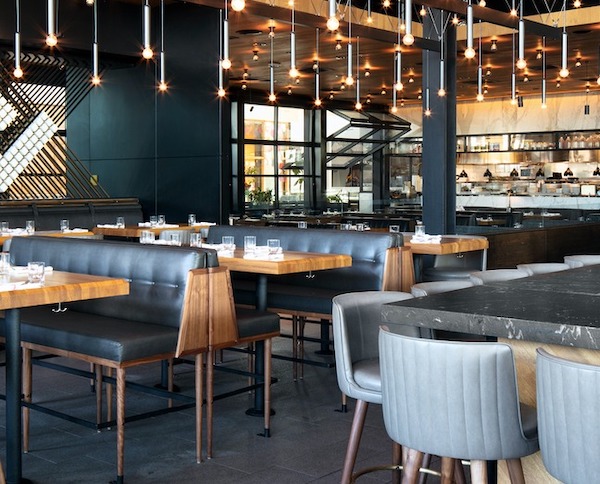 At Earls Kitchen & Bar Dadeland, guests are greeted with a spacious, open-concept establishment, including a fully-equipped kitchen, a roomy dining area, and a breathtaking patio boasting stunning views. Whether you're grabbing a bite for lunch, a sit-down dinner, or unwinding after work with a happy hour drink, Earls Dadeland offers a stylish yet relaxed environment.
Relax after a long day of shopping at Miami's renowned Dadeland Mall with one of our signature cocktails, like the classic Moscow Mule or an expertly crafted Old Fashioned. Chef Nic Vanderklei prepares fresh-baked breads, in-house soups and desserts, and globally-inspired dishes such as the Korean Beef Bibimbap, Lobster & Shrimp Ravioli, and the Dynamite Roll. Conveniently located near shopping, hotels, and just south of Miami International Airport, Earls Dadeland is the perfect spot to indulge in good food and great vibes.
Earls offerings 6 Oysters on the half shell for $19 on Monday – Friday from 4 – 7 PM and Monday – Sunday 10 PM – Close.
Monty's Raw Bar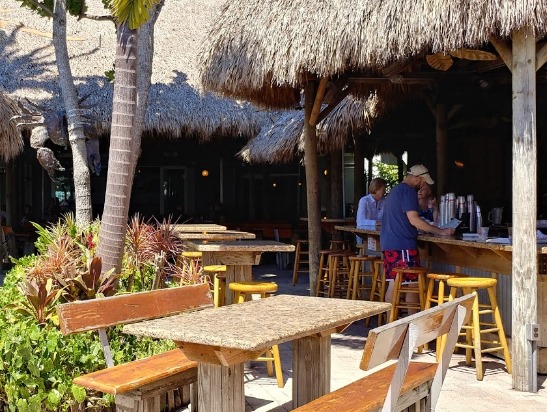 Take a break from the long drive to Key West and head over to Monty's for a relaxing experience. Although not known for serving the best seafood in Miami, the scenic views of Biscayne Bay from the many tables at the large outdoor raw bar will take your mind off of it. Indulge in one of their signature cocktails like the Miami Vice, a timeless combination of water views and frozen alcohol that is sure to bring a sense of happiness.
Monty's offers oysters for happy hour Monday – Friday from 4 – 7 PM. Unfortunately they don't list prices on their website.
Rusty Pelican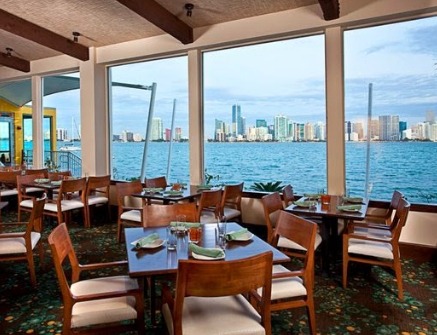 Embark on a thrilling culinary journey at the Rusty Pelican, where sophistication and glamour meet in the heart of Miami. This sizzling hotspot is the epitome of modern and chic, attracting locals, celebrities, and travelers alike. Savor the taste of fresh local seafood and innovative contemporary American cuisine, all while taking in the breathtaking waterfront views. Be entranced by the sparkling décor, expertly crafted cocktails, and unparalleled service that make for a truly unforgettable dining experience at the Rusty Pelican.
They offer seasonal oysters for $2 each Monday – Thursday from 4 – 6:30 PM in the lounge.
STK South Beach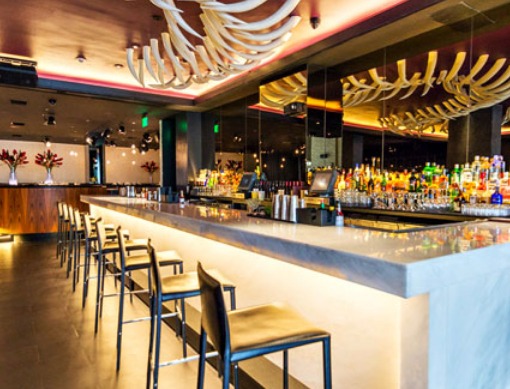 STK Steakhouse is a high-energy dining experience that brings together the best of a traditional steakhouse with a contemporary and vibrant atmosphere. The menu features creative twists on classic American cuisine, with an emphasis on the freshest, locally-sourced ingredients and high-quality steaks. Along with delicious food, STK offers upscale cocktails, an energetic Happy Hour, and an in-house DJ, providing guests with a memorable fine dining experience that will keep them entertained from the first drink to the last bite. Come and discover why STK Steakhouse is the place to be for a one-of-a-kind dining experience.
STK offers oysters for $3 each Monday – Friday from 3 – 6:30 PM.
SUGARCANE raw bar grill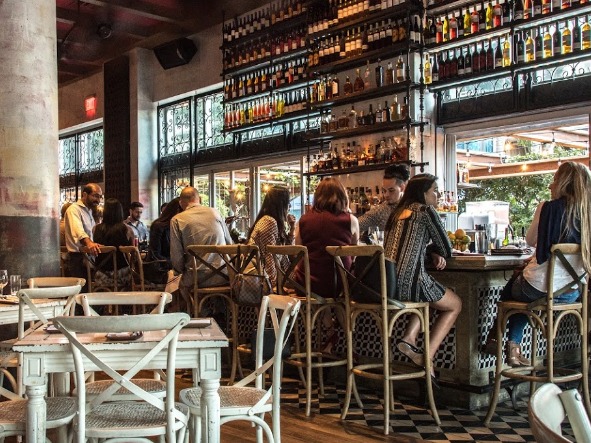 Savor the flavors of the world at SUGARCANE raw bar grill. Our Miami location offers a relaxed and inviting atmosphere, where guests can indulge in a diverse range of globally-inspired cuisine. Whether you're in the mood for American and Latin favorites, crispy rice, raw bar offerings, or crudos, there's something for everyone on our menu. Come and experience the lively energy, delicious food, and soulful spirit that make SUGARCANE a must-visit dining destination.
They offer East & West Coast Oysters Monday – Sunday 3 PM – 7 PM. $12 for 6 or $22 for 12.
Sweet Liberty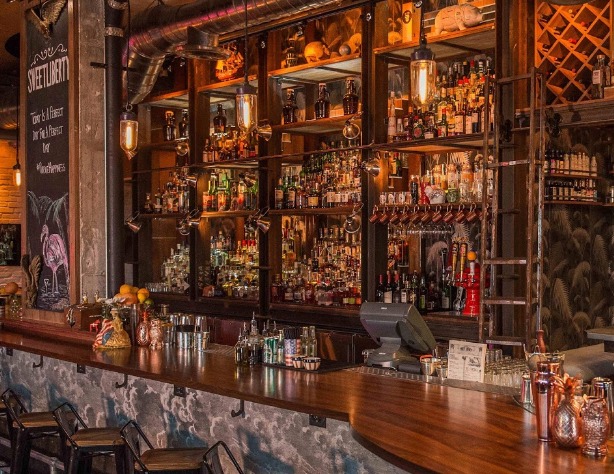 At Sweet Liberty in Miami, happiness is at the forefront with the slogan "Pursue Happiness" prominently displayed on the wall in neon script. Paying homage to the late John Lermayer, who coined the phrase, the bar strives to embody this sentiment in every aspect. Located in the heart of South Beach, the extensive spirits list boasts nearly 1,000 different bottles, along with a diverse range of bubbly, spritzes, and Martini options. The menu is a tribute to both Lermayer's classics like the Giant's Milk and new, innovative creations like the Banana Negroni. Come to Sweet Liberty and experience a sophisticated elevated fern bar that will have you pursuing happiness.
Sweet Liberty offers East Coast Oysters for $.95 each and West Coast Oysters for $1.95 Monday – Sunday from 4 – 8 PM.
The Lido Bayside Grill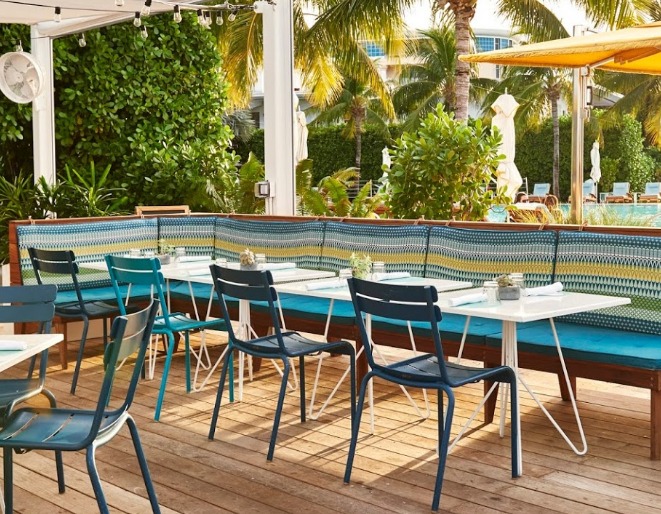 Indulge in a dining experience like no other at Lido Bayside Grill. With breathtaking views of the waterfront and an array of delectable menu items, this eatery is the perfect destination for any occasion. From our juicy Lido Burger to the refreshing Passionfruit Ceviche, there is something for everyone to enjoy. Sip on our famous frosé or try one of our signature cocktails, paired perfectly with a glass of wine from our extensive wine list. Come taste the new flavors and relive the memories at Lido Bayside Grill.
They offer oysters for $2.50 each Monday – Thursday from 4 – 6 PM
The Local House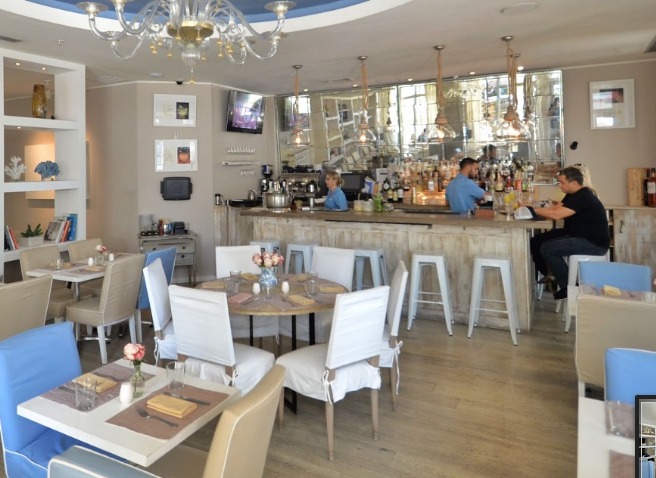 Escape to Sense Beach House, a personalized and stylish oasis located just steps from the sand in the chic SoFi neighborhood of South Beach. Experience 18 modern rooms, a breathtaking rooftop pool and lounge area with ocean and skyline views, and a popular indoor/outdoor restaurant serving up eclectic seafood dishes. Soak in the true beach atmosphere that South Beach has been craving, only at Sense Beach House.
They offer fresh and grilled oysters for $2 Tuesday – Friday from 4 – 6 PM.
Vista Restaurant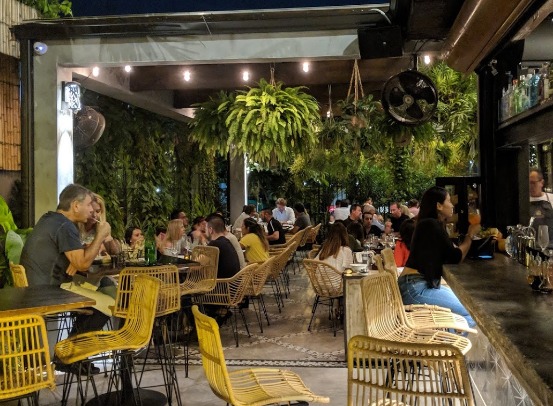 Vista is a trendy restaurant in the Buena Vista neighborhood that offers an array of outdoor seating options, including a rooftop with stunning views. Their menu features a diverse range of dishes, from octopus to duck tagliatelle and raclette fries. While the food may not be exceptional or unforgettable, the atmosphere and ambiance make it a great place for a relaxed outdoor dining experience. The restaurant is also conveniently located within an outdoor shopping complex that houses unique boutiques for you to explore before or after your meal.
They offer oysters for $2 each Monday – Friday from 4 – 7 PM.