Welcome to our guide to the most enticing happy hour deals in the vibrant city of Los Angeles! As your go-to source for all things related to nightlife and libations, we are thrilled to present an exquisite selection of bars and lounges that offer unbeatable happy hour specials. Whether you are a seasoned cocktail connoisseur or simply seeking a delightful spot to unwind after a long day, our curated list will surely impress. Join us on this tantalizing journey as we unveil the top happy hour deals in the City of Angels!
Alley
Culver City
12223 W Washington Blvd, Los Angeles, CA 90066
The Alley Lounge, devoid of flashy signage or haughty gatekeepers, has garnered a devoted following among those who crave top-notch libations, delectable cuisine, and a lively atmosphere. The mystique of Alley, where the worlds of the past and the present intertwine in a mesmerizing symphony of perplexity and burstiness, creates a truly unparalleled experience.





Alley Happy Hour Menu
Tuesday – Saturday
5 PM – 7 PM
Tuesday – Saturday
5 PM – 7 PM
Drinks
$6
– House Mexican Style Lager
– Draft Beer
$10
– Well Drinks
– Margarita
– Moscow Mule
– Prosecco
– Red & White Wine
$11
– SP Margarita
– Classic Whiskey Sour
Old Fashion – $12
Craft
Beverly Hills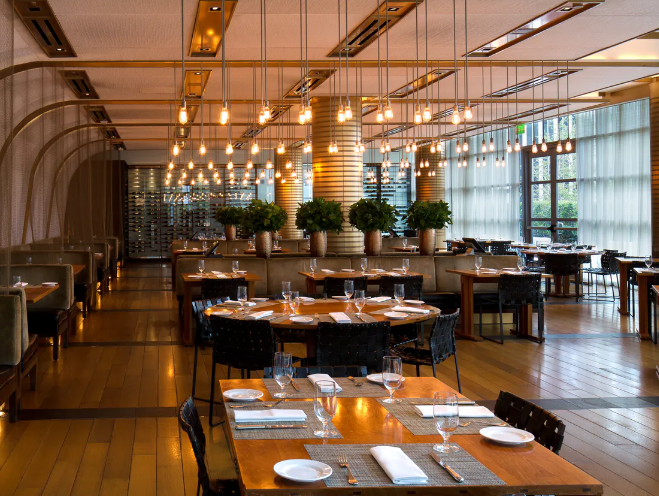 10100 Constellation Blvd, Los Angeles, CA 90067
With a steadfast commitment to showcasing the beauty of single-ingredient dishes, expertly and simply prepared, Craft LA continues to flourish under the skillful execution of Chef de Cuisine Brian Rigsby.  The restaurant's impressive 10,000-square-foot space, masterfully designed by the acclaimed architecture firm Bentel & Bentel, includes a bustling dining veranda that offers panoramic views of a serene four-acre park.





Craft Happy Hour Menu
Tuesday – Friday
4 PM – 6 PM
Drinks
$7
– Pilsner
– Golden Ale
– Pale Ale
House Sparkling, White, Rose Or Red Wine – $10
$12
– Constellation Boulevard
– Olvera Street
– La Cienega Boulevard
Food
Tuesday – Friday
4 PM – 6 PM
$5
– Toasted Baguette & Whipped Butter
– Potato Chips & Parmesan
$6
– Marcona Almonds
– Assorted Olives
Duck Fat Tator Tots – $7
Seasonal Flatbread – $11
District
Financial District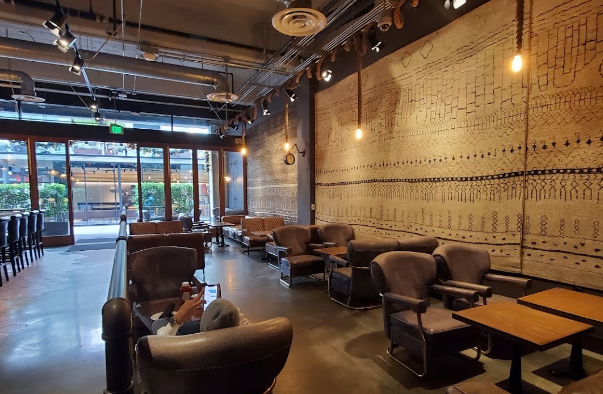 700 W 7th St, Los Angeles, CA 90017
The team at District takes pride in their commitment to sustainable farming practices by sourcing extraordinary local foods from our farmers. Their culinary exploration doesn't stop there. They also seek unique ideas from food purveyors worldwide, bringing together the best local and global flavors.
The design philosophy at DISTRICT mirrors our deliciously unexpected approach to food and drink. The resulting atmosphere is a curated blend of art and craft, seamlessly blending the past with the future, creating an enticing and original vibe.





District Happy Hour Menu
Monday – Sunday
4 PM – 6 PM (Bar & Lounge Only)
Drinks
$7
– Draft Beer
– Wine
$10
– Moscow Mule
– Daily Cocktail
Food
$7
– Cheese Quesadilla
– Chicharron
Chicken Tinga Quesadilla – $9
Escala
Koreatown
3451 W 6th St, Los Angeles, CA 90020
As Koreatown (K-Town) continues to evolve into one of the best neighborhoods in the city for dining and drinking, Escala stands as a reliable staple. Escala has been quietly serving its patrons with its Colombian-Korean menu and a laid-back atmosphere. The restaurant offers a diverse menu that combines the flavors of Colombia and Korea, creating a unique culinary experience. In addition, Escala is known for its popular weekend bottomless brunch, providing a reliable option for those looking to indulge in a leisurely meal. Amidst the ever-changing landscape of K-Town, Escala remains a consistent presence, offering a blend of cultural influences and a relaxed ambiance for its patrons to enjoy.





Escala Happy Hour Menu
Monday – Friday
4 PM – 7 PM
Sunday – Thursday
11 PM – 1 AM
Drinks
Aguardiente Shot – $4
$5
– Terra Bottle
– Stella Artois Pint
– Negro Modelo Pint
– Modelo Especial
$7
– Wine Glass Red Or White
– Wells
– Jameson Shot
– "Slow & Low" Old Fashioned On Tap
Food
Yucca Fries – $4
Street Corn – $5
$6
– Beef Sliders (2)
– Empanadas (2)
– Whole Wings (2)
Chicken Tamale – $7
Le Petit Paris
DTLA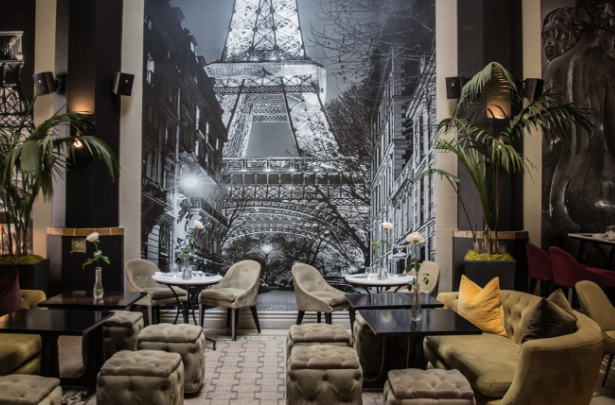 418 S Spring St, Los Angeles, CA 90013
After taking in the sights of the Continental Building, it's time to relax and unwind at Le Petit Paris, which is known for its French cuisine. In addition to the delectable food, Le Petit Paris offers a wide selection of beverages. Guests rave about the tasty cognac, house wine, and champagne served by the attentive waitstaff. Don't miss out on trying the great americano, strawberry lemonade, or espresso when visiting this spot.





La Petit Paris Happy Hour Menu
Sunday – Friday
5 PM – 7 PM (Bar & Patio Only)
Drinks
Beer – $6
$9
– House Wine
– Well Drink
$12
– La Marguerite
– Sweet & Spicy
Food
Sunday – Friday
5 PM – 7 PM (Bar & Patio Only)
French Fries – $5
Shishito Peppers – $7
$12
– Truffle Arancini
– Seabass Cromesquis
Margherita Pizza – $14
Mama Shelter
Hollywood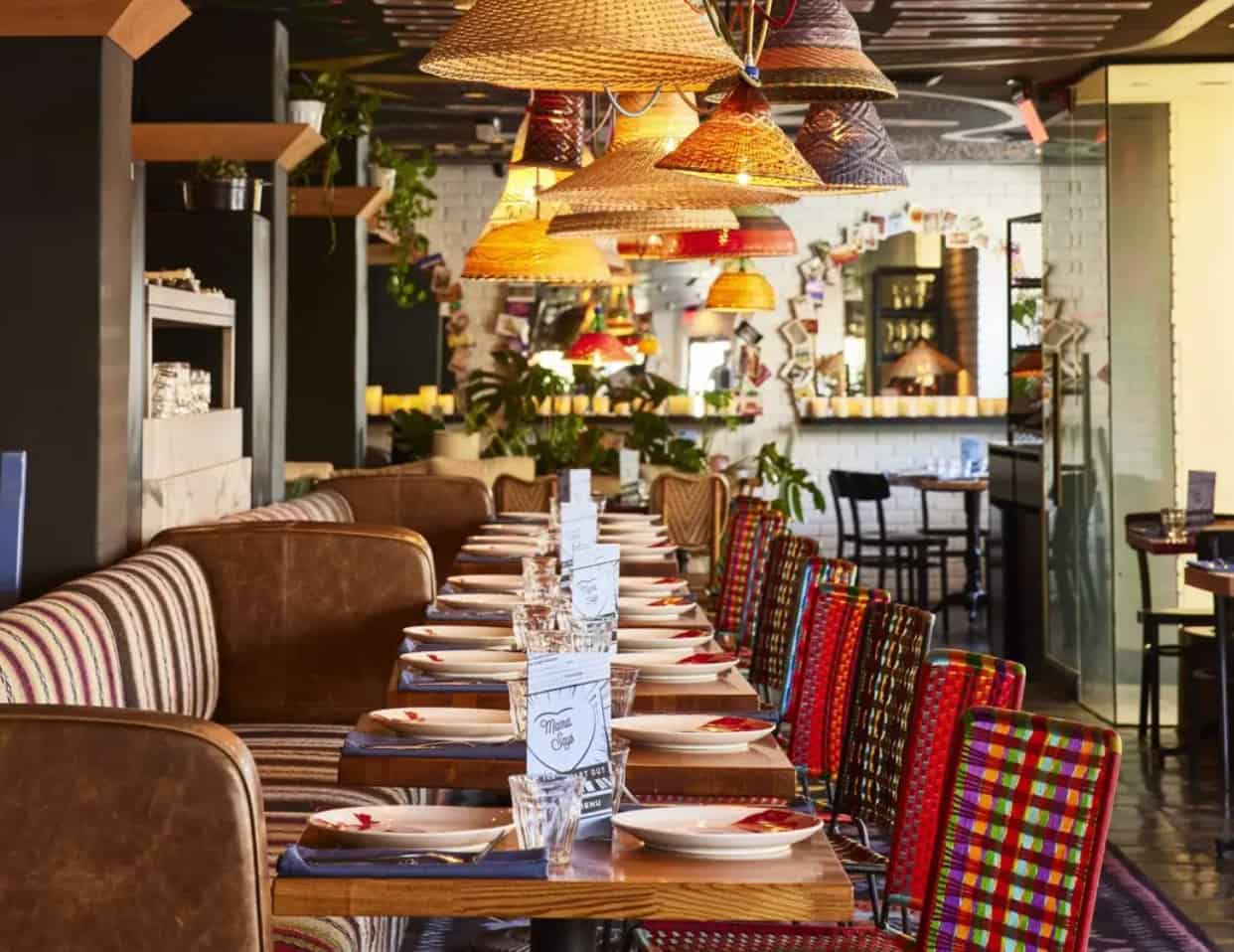 6500 Selma Ave, Los Angeles, CA 90028
Mama Shelter Los Angeles is a unique and authentic corner nestled in the heart of Hollywood. Thierry Gaugain designs Mama Shelter to create an eclectic and electric ambiance, with friendly, warm, and casual common areas that invite you to relax and unwind. Their happy hour offer below applies to the restaurant.





Mama Shelter Happy Hour Menu
Monday – Sunday
4 PM – 6 PM
Drinks
Draft Beer – $6
$7
– Evodia Garnacha 2020
– Varichon & Clerc Privilege Blanc de Blancs
– Better Half Sauvignon Blanc 2022
– Rabble Rose 2021
$9
– Well Spirits
– Mixed Drinks
Mama's Signature Cocktails – $14
Food
Oysters – $3 each (max 1 dozen)
Cottage Fries – $6
$9
– Chicken Drumettes
– Rosemary Spiced Almonds
Le Royale Burger – $16
Mercado
LA Brea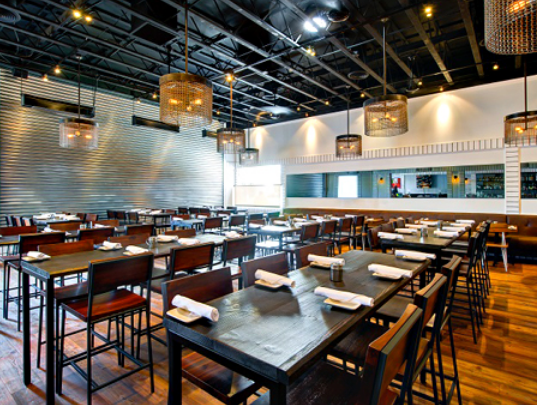 7910 W 3rd St, Los Angeles, CA 90048,
Los Angeles is home to numerous Mexican restaurants, but Mercado eateries stand out as something truly special. Led by Chef Jose Acevedo, Mercado offers modern Mexican cuisine that keeps diners coming back for more. With its innovative Mexican menu, there's something for everyone to enjoy.
Tuesday – Thursday
5 PM – 7 PM
Friday – Sunday
4 PM – 6 PM
Drinks
$4
– Tecate
– 21st Amendment "el Sully", Calidad
$5
– Dos Equis Amber
– Modelo Especial
House White Wine / House Red Wine – $7
Mercado Margarita – $8
$9
– La Flaca Margarita
– Mercado Margarita
Food
Calabacitas – $7
Tacos De Papa (2) – $8
$10
– Choriqueso
– Lela's Ground Beef Tacos (2)
– Tamales (2)
$11
– Dos Gringas (2)
– Tacos De Carnitas (2)
Jícama Ahi Tacos (2) – $13
Carnitas Nachos – $14
Plan Check Kitchen + Bar
West Los Angeles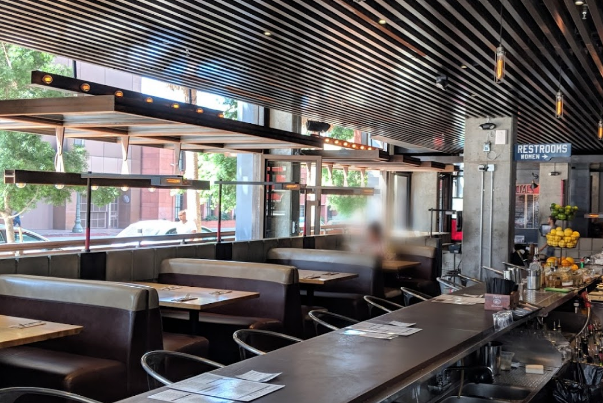 1800 Sawtelle Blvd, Los Angeles, CA 90025
Plan Check Kitchen + Bar was founded in 2012 in the West Los Angeles neighborhood of Japantown. They are famous for their Ketchup Leather™, delicious burgers, award-winning fried chicken, and more. Whether you're in the mood for comfort food, creative cocktails, or a unique dining experience, Plan Check Kitchen + Bar is a must-visit destination for happy hour.
Plan Check Kitchen + Bar Happy Hour Menu
Monday – Sunday
3 PM – 6 PM
Drinks
$7
– Belgian White (16oz)
– Lime Lager (16oz)
House Wine – $9
$10
– Old Fashioned
– Tropic Thunder
– Ginger Grant
– Tropical Daisy
Food
Onion Rings – $9
$10
– Pie + Thigh
– Chili Cheese Fries
– Buffalo Cauliflower
$12
– Wings (6)
– Beast Fries
Sliders Trio – $15
So Cal Double Cheeseburger – $18
Wings (12) – $20
$21
– PCB
– Southern Fry
Redbird
DTLA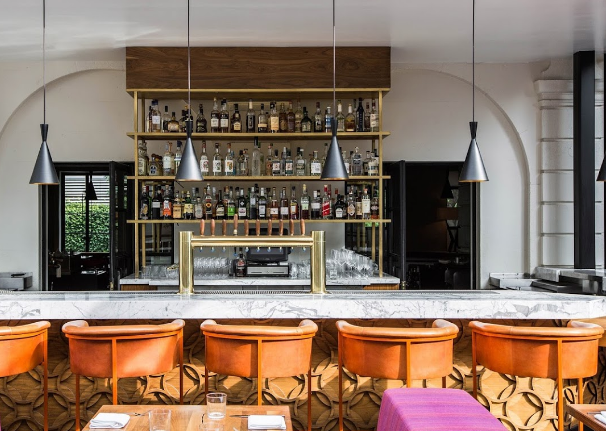 114 E 2nd St, Los Angeles, CA 90012
Chef Neal Fraser and Amy Knoll Fraser's flagship restaurant is located in the historic Vibiana building, once a rectory, and offers modern American cuisine that is both refined and approachable. The menu showcases the diverse culinary influences of Los Angeles, offering a fusion of flavors and techniques.





Redbird Happy Hour Menu
Wednesday – Friday
5 PM – 7 PM
Drinks
$11
– Mint Julep
– Turf Club
– Beduino
– Kentucky Colonel
– Jockey Club
– Oaks Lily
– Naveran, Redbird Cuvée, Brut
– Souleil, Muscat/Picpoul, Vin de Bonte,
– Martin Texier, Cinsault, La Boutanche
– Château Renaissance, Cabernet Blend
Food
$15
– Quesadilla Rellena
– Fish & Chips
– Crispy Duck Wings
– Fried Boudin Noir
– Pork Belly Confit
The Venue
Koreatown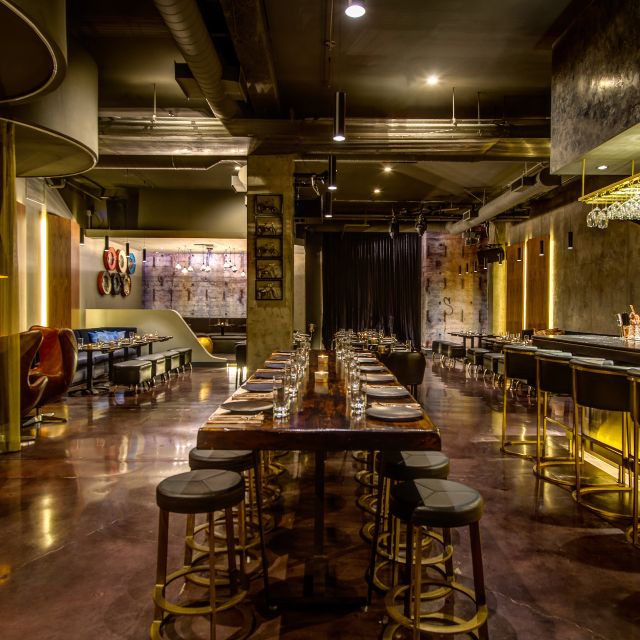 3470 Wilshire Blvd b1, Los Angeles, CA 90010
The Venue is a modern American restaurant and karaoke bar that was established in 2017. The spacious dining room and bar provide a welcoming ambiance for diners to enjoy their meals and drinks. Inspired by Seana Kang, the space is refined yet relaxed, taking cues from modern contemporary design.





The Venue Happy Hour Menu
Monday – Thursday
5 PM – 7:30 PM
Drinks
Beer – $5
$9
– Well Liquor
– House Wine
Old Fashioned – $10
Specialty Cocktails – $5 Off
Food
$7
– Grilled Beef Skewer
– Shishito Peppers
– Garlic-Parmesan Fries
– Root Vegetable Chips
$8
– Wings
– Seafood Ceviche
$10
– Cheese plate
– Nachos
Charcuterie plate – $11
Vespaio
DTLA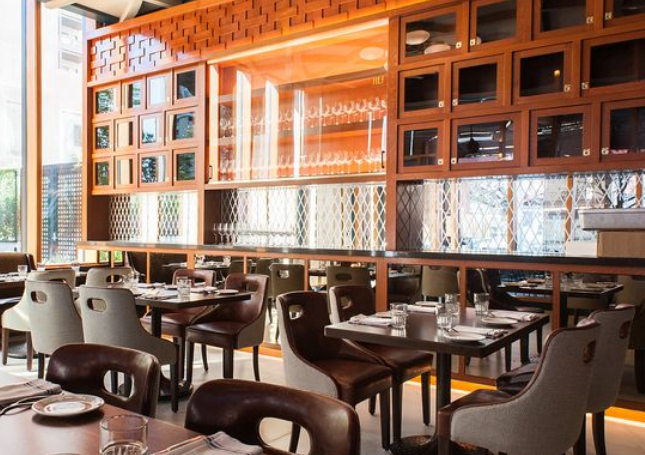 225 S Grand Ave, Los Angeles, CA 90012
Located in the Emerson, Chef Agostino Sciandri's newest restaurant Vespaio is a authentic Italian dining experience. They offer extensive deals for their happy hour.





Vespaio Happy Hour Menu
Tuesday – Friday
3 PM – 7 PM
Drinks
$5
– Peroni Draft
– Mezzacorona Pinot Grigio
– Stone Cellar Chardonnay
– Planeta Rose
$6
– Shlumberger Alcace Pinot Blanc
– Dry Lands Sauvignon Blanc
– Domestic Craft Beers
– Tangley Oaks Melot
$7
– Nosejob IPA Draft
– International Beers
– Castle Rock Cabernet Sauvignon
– McManis Pinot Noir
Remole Frescobaldi Super Tuscan – $8
Speciality Cocktails – $11
Food
Pizza Bread – $5
French Fries – $6
Assortment Of Cerignola Olives – $8
$10
– Saffron Arancini
– Oven-Roasted Broccoli
$11
– Penne Seasonal Vegetables
– Margherita Pizza
$12
– Fried Calamari And Zucchini
– Charred Octopus, Fingerling Potatoes, Green Beans, Olives, Cherry Tomatoes
– Truffle Mac And Cheese
-Crostone, Bufala Mozzarella, Fresh Tomato, Basil, EVOO
$13
– Mixed Mushrooms Pizza
– Homemade Baked Topini, Mozzarella, Tomato, Basil
$14
– Seared Tuna, Caponata Vegetables And Balsamic Glaze
– House Cured Salmon With Cream Cheese Crostini
Assorted Cheese, Homemade Jam And Crostini – $15
Assortment Of Imported Cold Cuts – $17
Beef Tagliata, Arugula, Shaved Parmigiana – $21